27 November, 2020 9:27 am
---
The Chinese leader says it's in the interests of both countries to promote the healthy and stable development of relations
Wang Qishan also sends congratulatory message to US Senator Kamala Harris, who will become vice-president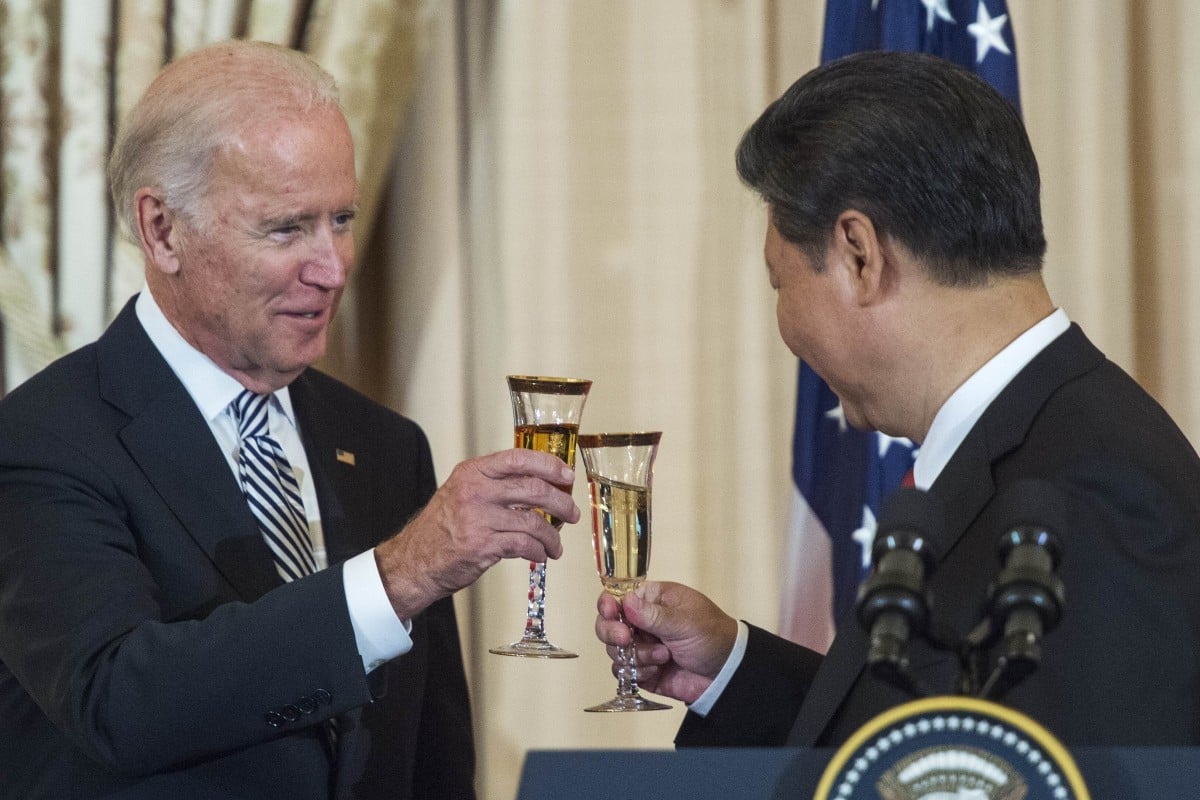 Chinese President Xi Jinping sent a message on Wednesday night congratulating Joe Biden on his victory in the US presidential election, marking Beijing's formal recognition of the result after Washington officially started the power transition days ago.Xi said it was in the interests of both countries to promote not only the healthy and stable development of China-US relations but also shared expectations around the world, according to official news agency Xinhua.
"We hope both countries uphold the spirit of non-conflict, non-confrontation, mutual respect and win-win cooperation, focus on cooperation, manage and control conflict, to promote China-US relations towards a healthy and stable path, and advance the noble course of global peace and development jointly with every country and the global community," Xi said.Vice-President Wang Qishan also sent congratulations to US Senator Kamala Harris, who will become vice-president, on Wednesday.
Beijing has watched the election closely but strictly followed diplomatic protocol in its response to the result. Wednesday's official messages came after the US General Services Administration on Tuesday allowed the Biden team to start the formal transition process.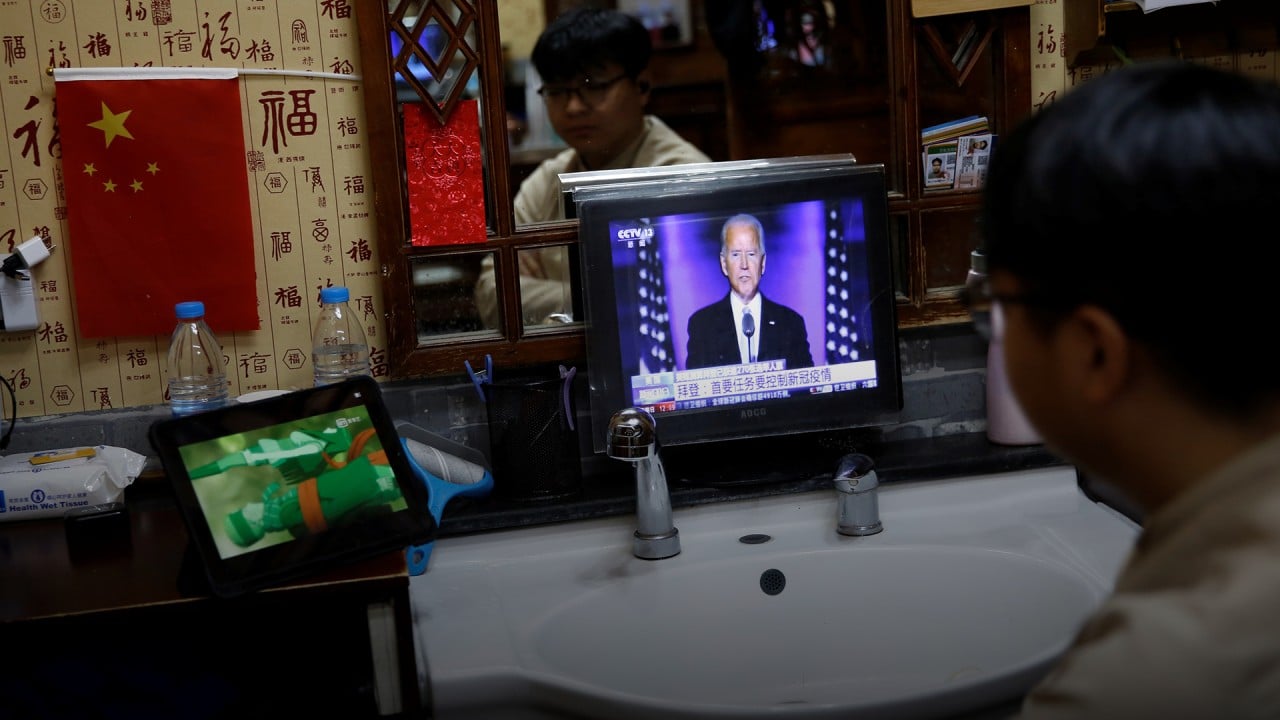 World reactions mixed after Joe Biden's 2020 US presidential election victory
Soon after Biden was declared the winner on November 8, German Chancellor Angela Merkel and British Prime Minister Boris Johnson were among the leaders in Europe to congratulate him.But China did not, prompting speculation that Beijing was waiting until the results had been officially confirmed so as not to appear to be favouring any side or risk getting embroiled in US domestic politics amid strained ties with Washington.
A week later, China's foreign ministry offered cautious congratulations to Biden and Harris but stopped short of calling Biden the president-elect and said China understood the election results needed to be confirmed in accordance with US rules and tradition.
Analysts said China carefully calibrated the timing and wording of its congratulatory messages as it has tried to navigate the prickly divide between Biden and President Donald Trump.
"They will be watching both very carefully," said Paul Heer, a Centre for the National Interest fellow and former national intelligence officer for East Asia. "China has been smart enough not to say who they favour."
Heer said Beijing initially congratulated Biden – but did not explicitly say what the congratulations were for – on November 14, when after several conspicuous days, foreign ministry spokesman Wang Wenbin said at a daily news conference: "We express our congratulations to Mr Biden and Ms Harris. We respect the choice of the American people."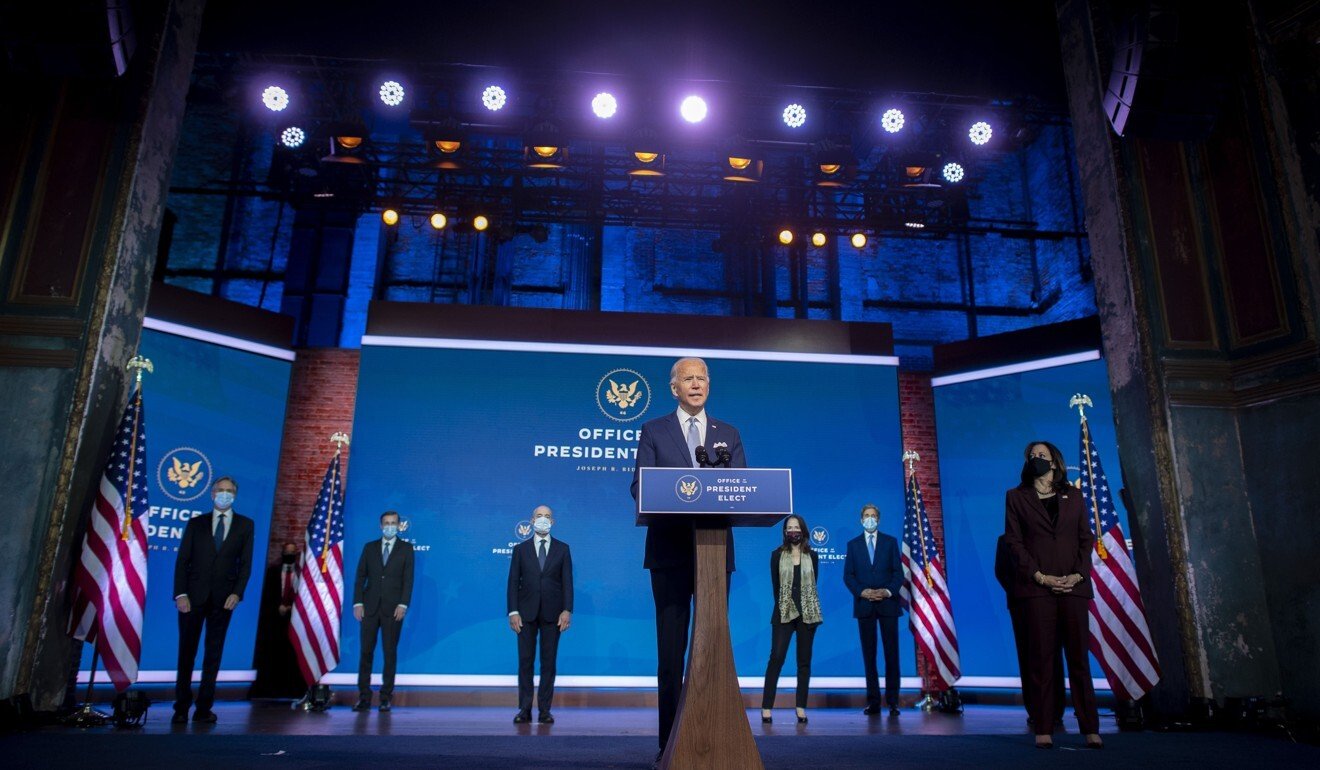 "I think they were concerned about jumping on the Biden bandwagon too early in ways that might antagonise Trump, based on speculation, which we've now seen [had merit], that Trump would do things in his final weeks."
Many of those steps on his way out the White House door – including provocative high-level visits to Taiwan, stepped up sanctions against Chinese officials and companies, and the announcement of steps against China for alleged currency manipulation – are aimed as much against Biden as they are against Beijing, even as China sought to skirt the line, Heer said.
"The Chinese don't want to be the last party to say something because they don't want to alienate Biden either," he said. "This is speculation, but after Trump announced sanctions on Chinese companies with connection to the [Chinese military], China had reason to conclude that Trump was going to do it anyway."
That, he added, may have led to the earlier step of having a low-level foreign ministry functionary rather than Xi issue the vaguely worded first acknowledgement.Beijing's messages on Wednesday also came after Biden announced the key members of his foreign policy and security team, which is expected to reject Trump's "America first" mantra and start embracing US allies to tackle the world's most pressing challenges.
Biden picked Antony Blinken as his secretary of state and named John Kerry as climate envoy on the National Security Council. Both are former diplomats and security advisers who served in the Barack Obama administration.Jake Sullivan, an old China hand, has been chosen as national security adviser, with Janet Yellen, the former US Federal Reserve chair who supports open trade, as Treasury secretary.
Xi's congratulatory remarks "are significant in that they front-load security concerns, not surprisingly but nonetheless starkly, in a way that underscores the genuine challenges facing the bilateral relationship", said Andrew Mertha, director of the China studies programme at the Johns Hopkins School of Advanced International Studies in Washington.
"Xi would certainly have preferred to have waited until a formal concession by Trump, yet given the diminishing probability of that happening, combined with the groundswell of international recognition of the US election results and Biden's appointing of his foreign policy team, the optics of delaying this further would have raised eyebrows," Mertha said.
With several veteran diplomats who have experience dealing with China in the incoming administration, hopes are rising that Beijing and Washington can resume cooperation on global issues such as climate change and seek to ease tensions, though confrontation over human rights and security is expected to continue.
"This is a gracious and perfectly appropriate note of congratulations to the president-elect," said David Adelman, a partner with the global law firm Reed Smith and former US ambassador to Singapore in the Obama administration. "Beijing and Washington have a shared interest in calm waters across the Pacific, and both leaders undoubtedly look forward to a more conciliatory tone."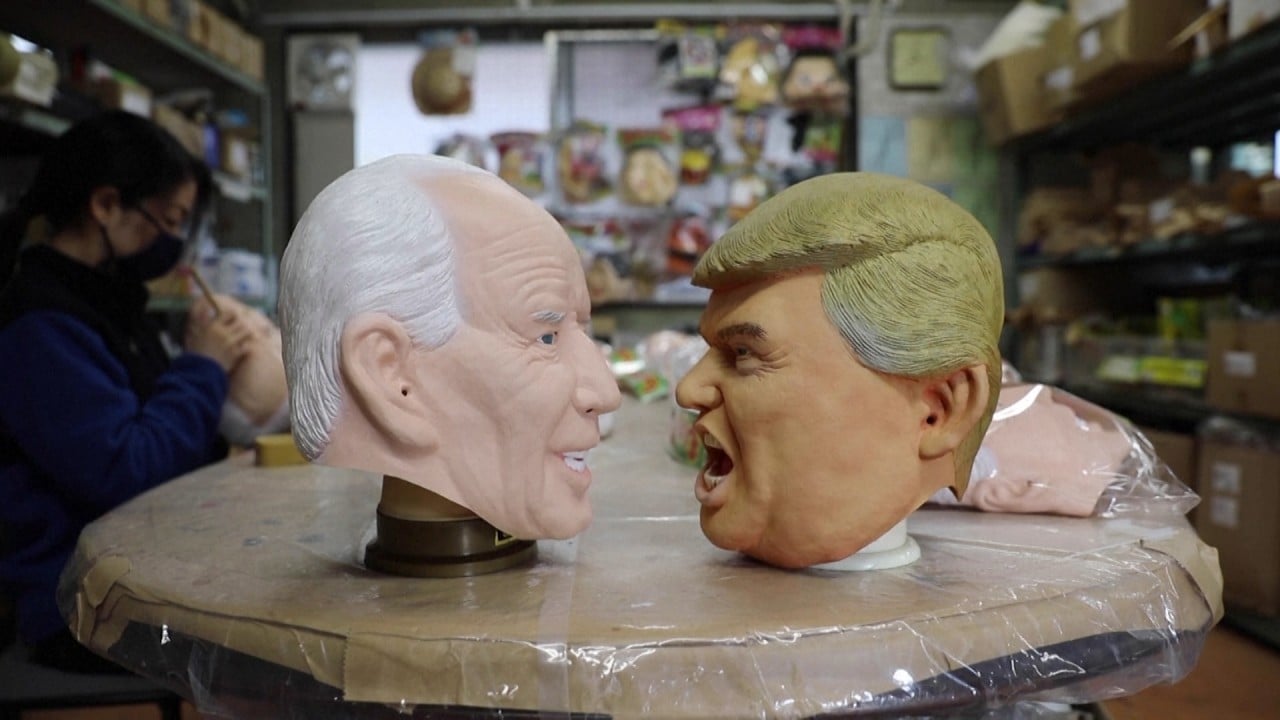 Smooth transition: Japanese rubber mask maker dumps Trump for Biden
Biden said in an interview earlier this year that China was a competitor, and before the election said that he would force China to play by the international rules when it came to trade, treatment of foreign companies and its actions in the South China Sea.
Trump "embraces … thugs like [Kim Jong-un] in North Korea and the Chinese president and [Russia's Vladimir] Putin and others, and he pokes his finger in the eye of all of our friends, all of our allies", Biden said during the final presidential debate last month.
"We need to be having the rest of our friends with us saying to China: these are the rules," Biden said of his plans to rally American allies to pressure Beijing. "You play by them or you're going to pay the price for not playing by them, economically."
Fu Ying, a former Chinese deputy foreign minister, wrote on Tuesday in The New York Times that it would be "a tragedy of history if two countries of such power moved toward confrontation based on misperceptions", and said "cooperative competition" was possible between the two nations.
"Both governments have heavy domestic agendas to attend to, and so even if competition between China and the United States is unavoidable, it needs to be managed well, cooperatively. It is possible for the two countries to develop a relationship of 'coopetition' (cooperation + competition) by addressing each other's concerns," Fu wrote.
China's foreign ministry has called for the new US administration to meet Beijing "halfway" to improve relations.
Meanwhile, Trump's efforts to invalidate election results in key battleground states lost more momentum on Wednesday after a string of courtroom defeats.
Trump abandoned a plan to attend a meeting in Pennsylvania led by Republicans and his lawyer Rudolph Giuliani focused on his team's allegations of election irregularities. Instead of travelling to the event, Trump called in on an adviser's phone to rehash claims for which his campaign has yet to produce any evidence.
Campaign aides have not held any briefings on the subject since a widely mocked appearance by Giuliani last week, when he claimed, falsely, that machines used to count votes were owned by Democrats.
Politico cited a senior campaign official on Wednesday as describing Trump campaign manager Bill Stepien as "MIA"
Source CNN