5 September, 2020 4:26 pm
---
The city has become a template for the new China, where controlling the narrative is as important as controlling Covid-19.
It's past 12 on a hot summer's night in Wuhan,and hundreds of college-age kids are packed into a nightclub called Hepburn, dancing to a mix of Chinese-language Mandopop and American rap. At one point the DJ spins an electronic remix of "My Name Is," the 1999 hit by Eminem, and the crowd goes wild. Many of the partiers toss fake U.S. $100 bills in the air—even in the age of Donald Trump and the pandemic, American soft power is a potent force—mimicking scenes from music videos.
The club has posted signs urging people to wear masks and keep their distance from one another, but few are doing either. No one sees the need. Wuhan has had just four confirmed cases of the novel coronavirus since May, when the city tested its entire population in the space of two weeks. (All four had traveled from overseas, and were immediately quarantined.) Now, "Wuhan is the safest place in China," says Hepburn's deputy general manager, Thomas Tong.
More than eight months after Covid-19 emerged in the industrial hub of 11 million, Wuhan is, perhaps more emphatically than anywhere else, moving into a post-virus future. As the club kids at Hepburn can attest, social life has resumed in all its varieties, with lineups at popular breakfast joints and cinemas and karaoke lounges open for business. Factories and offices are operating normally, although China's vast surveillance state, partly re-tasked to monitoring public health, has a long reach. A national-ID number is required to purchase fever medicine, and anyone with a high temperature is theoretically required to report it to the authorities. Nightspots aside, people generally wear masks in public, and a system of check-ins has been implemented at most buildings, allowing rapid contact tracing should a case be detected.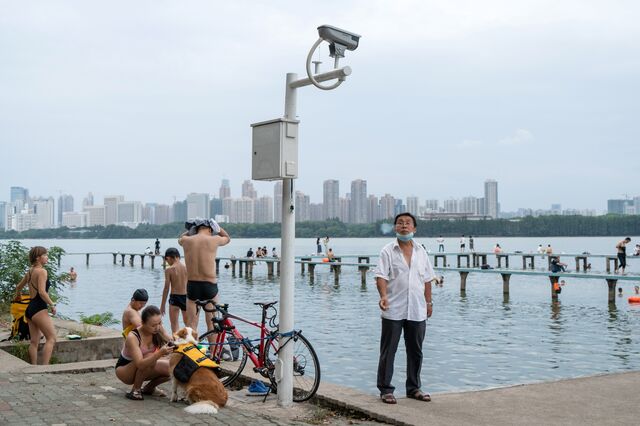 The most revealing aspects of life after the coronavirus in Wuhan, however, go beyond the pathogen itself. As President Xi Jinping intensifies repression at home and aggressively pursues Beijing's claims abroad amid the pandemic, the city is becoming something like a template for the new China, a place with relative economic freedom but intense controls on speech, socially vibrant but isolated from and suspicious of outsiders. Publicly questioning how the government handled the virus is almost impossible, since that would weaken the central rhetorical foundation of Xi's expanding power: that China's mighty state conquered a disease that left the U.S., with its raucous democracy and competing centers of power, on its knees. Controlling the narrative, in other words, is just as important as controlling Covid-19.
"China needs stronger nationalism to insulate Xi and his confederates from blame, both domestically and internationally," said Ian Bremmer, the founder of Eurasia Group, a New York-based political consultancy. In order to promote "confidence that the Chinese model is the correct one," Bremmer said, the government wants "as much control of the information cycle as possible."
That task is only getting easier thanks to the Trump Administration, which has made vilifying China its foreign-policy priority in the runup to November's presidential election. From referring to Covid-19 as the "China virus" to signing an executive order that would effectively ban the popular WeChat and TikTok apps in the U.S., the White House is eager to present the two countries as zero-sum competitors, if not enemies. That's left many Chinese, who grew up consuming American pop culture and aspiring to study at U.S. universities, wondering whether the world's other superpower is now irretrievably biased against them, no matter who wins in November.
When Bloomberg News reporters visited Wuhan in April, just as restrictions on daily life were being lifted, the government wanted to portray the city as a success story. Propaganda officials offered to escort foreign reporters on tours of factories that were newly up and running, and temporary hospitals that were about to shut down. Businesspeople were, for the most part, happy to discuss their experiences of the coronavirus and the challenges of keeping employees from getting infected, while trying to resume exports to countries entering their own lockdowns. Ordinary citizens, approached on street corners and in shopping malls, were similarly willing to chat."China needs stronger nationalism to insulate Xi and his confederates from blame, both domestically and internationally"
During another visit at the end of July, after a period of intensified U.S.-China tensions that included Trump ordering the closure of the Chinese consulate in Houston, claiming it was a center for espionage, the mood had shifted. A resident who'd previously criticized the Chinese government's management of the virus abruptly canceled a meeting, citing a fear of surveillance. Some companies that had agreed to interviews also backed out, while others said any discussions with reporters for a U.S.-based media organization would have to be arranged through the municipal propaganda department.
Zhang Hai, who attempted to sue the Wuhan government for concealing information after his father died of the coronavirus in January, said police had questioned him twice since May. His account on Weibo, the Chinese social network, has been suspended. "I'm being censored in all kinds of ways now," said Zhang, who lives in Shenzhen. "My relatives in Wuhan were threatened with losing their jobs" if he continues to speak out, he said.
Source– www.bloomberg.com