10 September, 2020 9:39 am
---
Foreign ministry demands end to 'unreasonable acts' after Chinese journalists in Australia were interrogated and had devices seized
Academic says it is 'preposterous' to suppose influence by Chinese WeChat group on Australian politics
Beijing, Sept 10
China has accused Australian authorities of "barbaric" searches of the homes of four Chinese journalists in a new escalation in the spat between Beijing and Canberra over the treatment of their respective media.
In a regular briefing on Wednesday, foreign ministry spokesman Zhao Lijian said that in late June authorities in Australia interrogated four journalists from Chinese state-run organisations Xinhua, China Media Group and China News Service.
The Chinese reporters – who have since returned to China – had their residences searched over potential violations of Australian foreign interference laws, and their work computers, phones and other devices were seized, Zhao said.
"The Australian side has yet to provide a reasonable explanation for the searches of our reporters, and have still not returned all of their seized possessions," he said. "We demand that Australia immediately stop these barbaric and unreasonable acts."
His remarks come amid fresh tensions between China and Australia, after the detention of Beijing-based Australian journalist Cheng Lei on national security grounds and the evacuation of two Australian correspondents from China.The departure of the two Australian journalists – Bill Birtles from the Australian Broadcasting Corporation (ABC) and Michael Smith from the Australian Financial Review (AFR) – late on Monday marks the first time in decades there have been no Australian news outlets represented in mainland China, as relations between the countries plunged to new lows.On Wednesday, Australian media reported that the searches of the Chinese journalists in Australia might have been part of a Chinese influence investigation into New South Wales politician Shaoquett Moselmane and his former staffer John Zhang. Both had their homes searched on June 26, the same date the Chinese journalists were interrogated, according to Chinese state media.
Zhang has been under investigation for use of a WeChat group to influence Moselmane on positions relating to China, allegations Zhang denies and has sought to challenge in court, according to the ABC.
Four people reportedly included in the investigation as part of the WeChat group were Australian bureau chief of China News Service (CNS) Tao Shelan, the Sydney bureau chief for China Radio International (CRI), Li Dayong, as well as two Chinese academics of Australian studies, Chen Hong and Li Jianjun.
CNS and CRI did not respond to requests for comment. Li Jianjun did not answer his mobile but the ABC has reported that his visa for Australia has been cancelled.
Chen, director of the Australian Studies Centre at East China Normal University in Shanghai, said on Wednesday afternoon it was "preposterous" that the WeChat group was seen as a means of influence and that its conversations did not have "the remotest complicity of anything suspicious".
The Chinese scholar said his friendship with Moselmane and Zhang was "entirely above board". He said his own visa to Australia had been cancelled on August 6 on security grounds, which he rejected.
"I wrote a letter to their immigration department to say I do not accept their decision, but they said it was 'irrevocable' so if needed I will apply again for a visa, but cannot do anything if they do not give it to me," he said, adding he had not received a response. "I have done nothing and will do nothing to act as a risk to Australia's security."
Chen added that the actions against the Chinese journalists in Australia was a "violation of their rights", compared to the treatment of Birtles and Smith "in accordance with the law".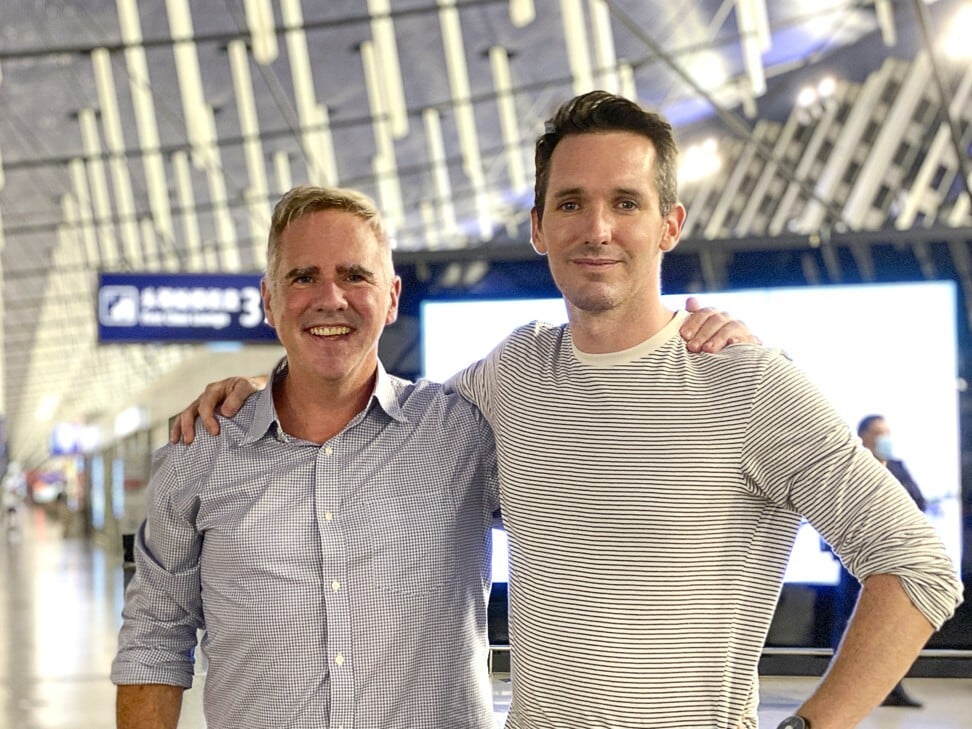 Australia's foreign affairs department did not immediately comment.
Australian diplomats had helped negotiate the departure of Birtles and Smith from China. Temporary exit bans on the two were lifted after they agreed to be questioned for one hour.
Birtles and Smith wrote personal accounts of their experience for the ABC and AFR, respectively, detailing how state security officers had shown up at their homes in Beijing and Shanghai past midnight last week to inform them they were involved in a national security case. Both wrote of being sheltered for days in the Australian embassy and consulate.
The two were questioned in separate interviews about their reporting in China and their relationship to Cheng, whom neither knew well.
"My departure is just part of a bigger trend accelerated by Beijing's increasing pursuit of a narrative exclusively on the Communist Party's terms," Birtles wrote. "It is a pursuit that will leave both Australians, Chinese and the wider world less informed and less understanding of each other."
Smith said the incident might have been "another exercise designed to try to intimidate the Australian government at a time when it is standing up to Beijing".Foreign journalists in China have previously sounded the alarm about being targeted in diplomatic spats. More than a dozen reporters working for US media outlets were forced out of the country in March. This was in retaliation to a US government cap on the number of Chinese journalists working for China's state-run media outlets there, which effectively expelled 60 journalists.