---
Kathmandu, Aug. 23: 
Lady Gaga and Rihanna were among the millions who saw the funny side when the US first lady chose clutching her Hermès close rather than holding hands with husband Donald Trump – so how much does she really love them? We trawled the archives to count every Birkin bag Melania has taken out in public – and worked out what each piece is worth …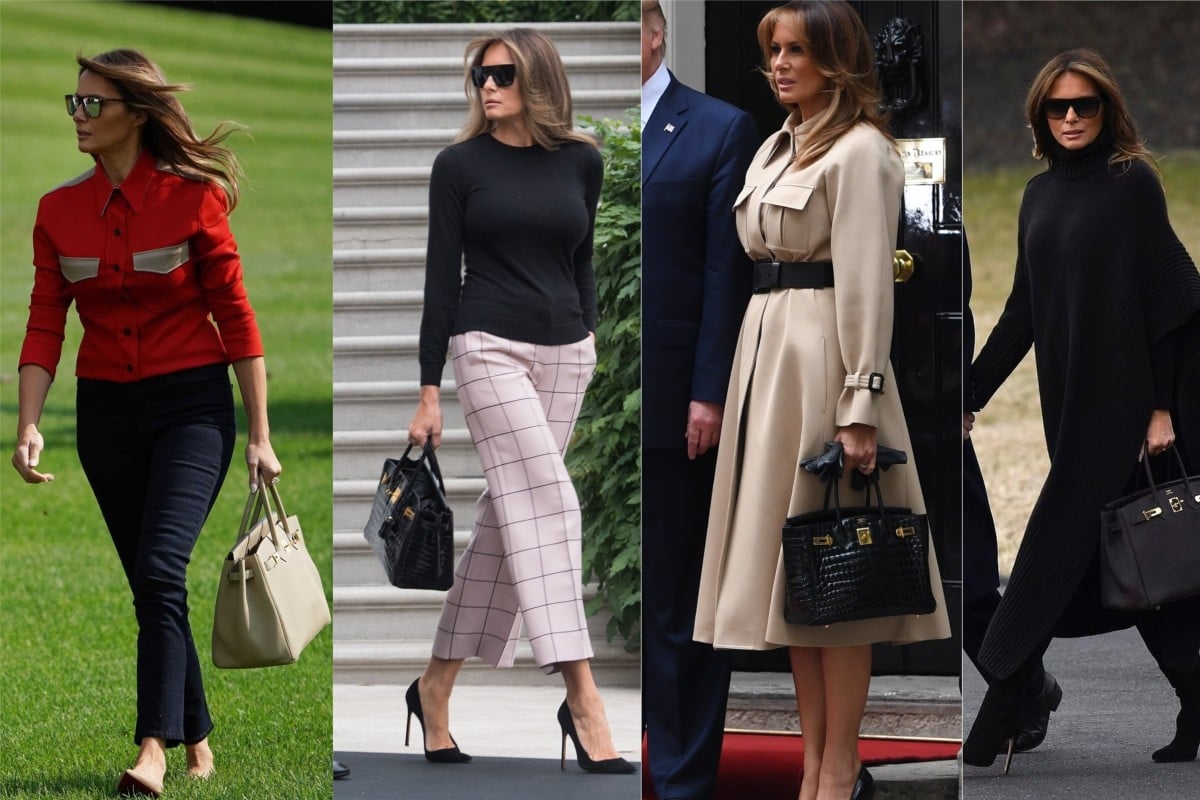 If there's one luxury item that marks the pinnacle of fashion accessories, Hermès' Birkin bag unquestionably sits atop the ladder. It's an item the rich and famous swear to possess – but it is not necessarily attainable with just mere money.
There is an infamous waiting list for the status symbol and now the French brand has made it even more exclusive, only open for VIPs to purchase. There's also a minimum previous spend before one can get their hands on the upper echelon product.In the A-list celebrity world, Victoria Beckham, the Kardashians, Sarah Jessica Parker and Lady Gaga are all hardcore fans of the fashion staple. There wasn't so much showing off in the power realm until US first lady Melania Trump broke the norms and toted her collection during some high-profile outings.
Recently, Melania inadvertently caused a viral storm when footage emerged on Instagram of the first lady clutching a beloved Birkin close while disembarking from Air Force One in Morristown, New Jersey, on Sunday (August 16) – despite repeated attempts from her husband for a cute hand-hold photo op.
So how much does Melania really love her Hermès? It's hard to determine how many Birkins the first lady has collected, but a glimpse of some of her diplomatic trips with her husband Donald Trump reveals one or two – or a dozen.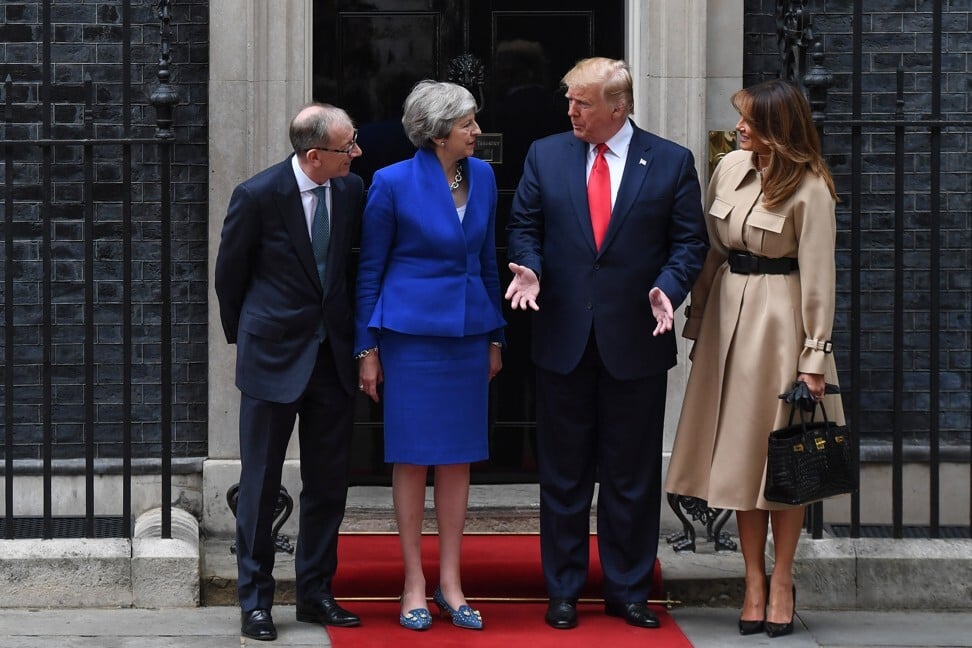 One of her most desirable Birkin handbags is the black crocodile edition Melania brought to the UK when accompanying her husband to meet the former British Prime Minister Theresa May at 10 Downing Street last year. The shiny Niloticus crocodile Birkin 25cm with platinum hardware is estimated at US$65,000 on the resale market.
June 12, 2017, marked one of the most important days for Melania Trump when she finally moved into the White House. It came six months after her husband's immediate relocation from New York City following his inauguration, a time she spent allegedly renegotiating her prenup.
For her hostess debut, Melania was effortlessly dressed in a white sleeveless Dolce & Gabbana top, Bally culottes, a pair of python Manolo Blahnik stilettos and a 30cm Hermès Clemence leather Birkin, which is worth US$13,000.
The former model also owns a classic black Hermès Birkin 35cm. She carried the bag when stepping out on the South Lawn of the White House before boarding Marine One in February 2019, heading from Washington to their Mar-a-Lago estate in Florida. She also held the bag before departing for a trip to visit Hurricane Irma victims in October 2017, the occasion she famously wore the Zara "I don't really care. Do U?" jacket.
In July 2017, when leaving for a trip to Poland and Germany, the first lady dressed cool in a simple black top and a pair of checked Valentino trousers, Manolo Blahnik pumps, finished with a cool Hermès Crocodile Birkin 30cm gold hardware tote that's worth about US$75,000.
She also owns a navy Birkin 35cm, which she carried when arriving on the south lawn of the White House on July 16, 2018, after returning from the seven-day trip to Europe with Donald Trump. A new edition of the purse sells for US$12,000.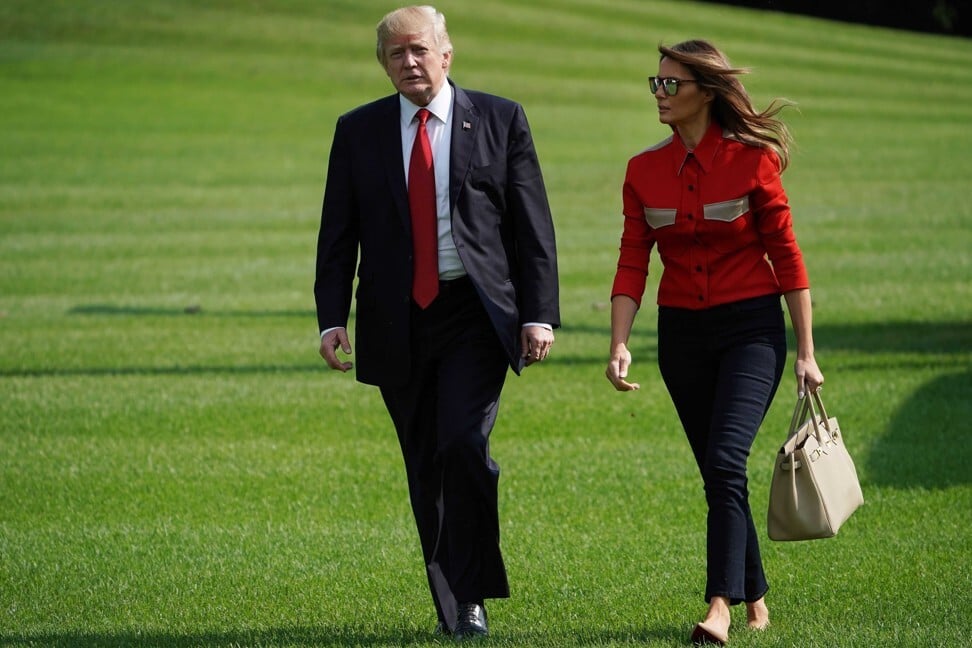 After a weekend trip to Camp David, the first lady returned to her home base in a Calvin Klein 205W39 red shirt with jeans, Christian Louboutin flats, and an Hermès 35cm Trench tote leather Birkin. This model is priced at US$10,000.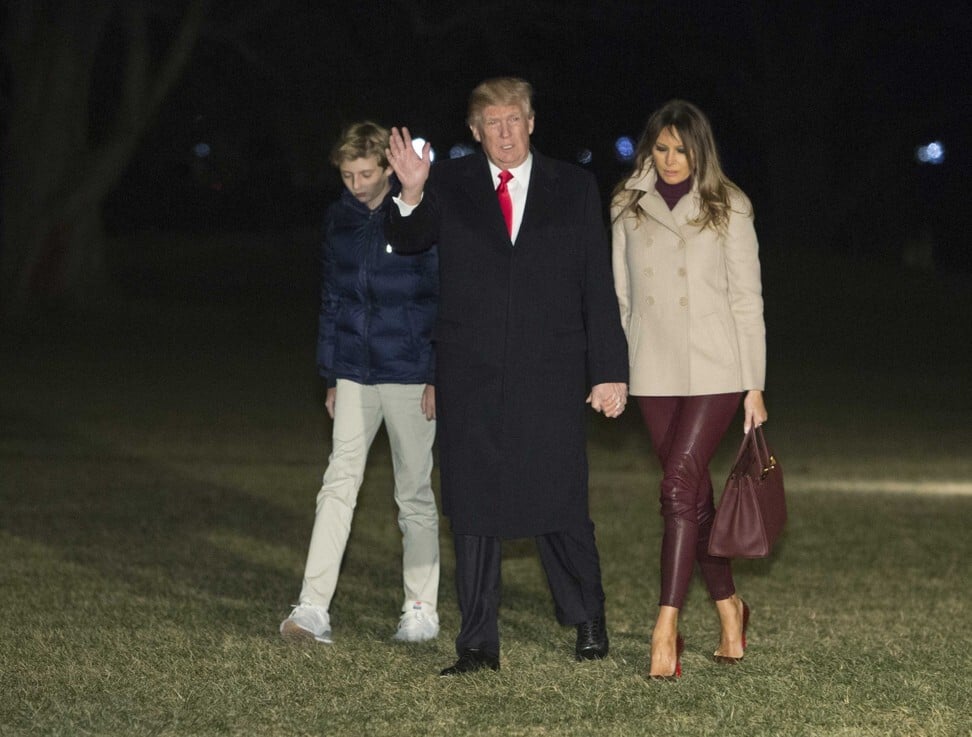 On the New Year's Day of 2018, the Trump family returned to the White House after their trip to Mar-a-Lago in Palm Beach. Melania disembarked the aeroplane carrying a unique Hermès Rouge Togo leather Birkin 35cm, which retails at US$12,000 next to her Helmut Lang leather pants.
Her collectibles that have been spotted are estimated to be worth more than US$100,000 in total. In her early years as the wife of the New York real estate billionaire, Melania was also photographed toting some other shades of Birkin, which are now worth five times more on the second-hand market.
Source – south china morning post