---
Kathleen Magramo and Zoe Low, 5 Aug: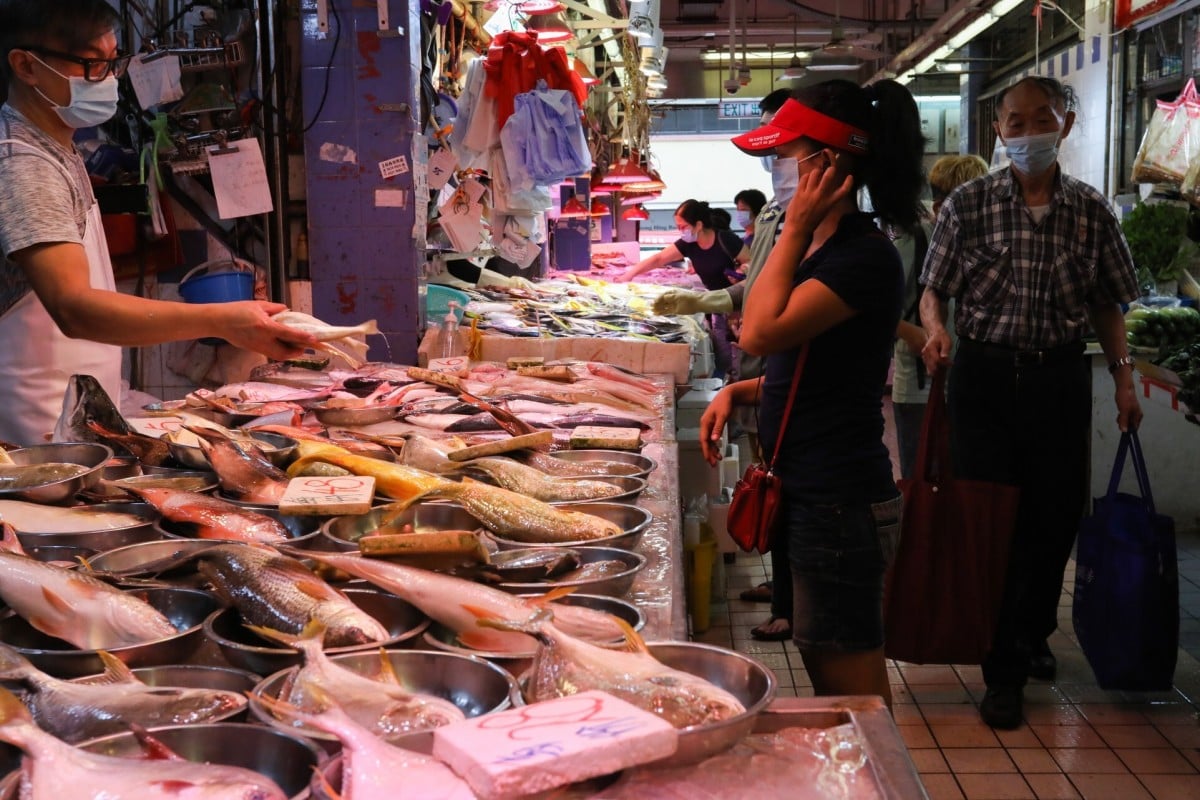 A shopper stops at a fish stall in Kowloon City Market on Wednesday. Photo: Nora TamFear over possible Covid-19 infection gripped some vendors and shoppers in Hong Kong on Wednesday, a day after a cluster of cases plagued busy wet markets at the heart of the city.
Doctors have called for testing for all market workers as a precaution, after groups of patients were linked to fish stalls at Hung Hom and To Kwa Wan markets.
Microbiologist Dr Ho Pak-leung, speaking on a radio show, said wet markets were common sources of outbreaks, not just in Hong Kong.
"The Food and Health Bureau manages 73 wet markets, 11 of which now have outbreaks," he said. "This shows wet markets are a time bomb and there could be the risk of a 'super cluster' appearing."
Fish vendors the Post interviewed worried about a further decline in business, which was already down between 20 and 30 per cent over the past month, as a third wave of coronavirus gripped the city.
ADVERTISING
At Kowloon City market, a fishmonger for almost 20 years who gave his name as Law, said sales had weakened by about 20 per cent during the recent outbreak.
"Of course I'm worried about the coronavirus, but business goes on," he said. "You can get infected at work, when commuting, or even at restaurants. We just need to follow the social-distancing rules."SCMP GLOBAL IMPACT NEWSLETTERUncover the most important stories from China that affect the worldSIGN UP NOWBy registering, you agree to our T&C and Privacy Policy
Law called the clusters at To Kwa Wan and Hung Hom among fish vendors alarming, and said he could only hope it did not spread to other wet markets.
Another vendor, at Tak Fook Kau Kee fish stall, said sales were down between 20 and 30 per cent in the past month.
"We do what we can to keep ourselves clean," said the vendor, who is known as Fei Tzai to local shoppers.
While chopping up a large grass carp fish, Fei Tzai said local residents used to go to the market every day, but since the pandemic they bought food every other day instead.
Of the 30 fish stalls on the first floor of the Kowloon market, seven were closed on Wednesday morning.
Domestic worker Elsie Alcaraz, 45, bought fresh seafood, such as scallops and shrimp, for her employers' dinner.
"I still come to the wet market at least four times a week," Alcaraz said. "My employers are worried for my health and safety which is why they provide me face masks, a face shield and hand sanitisers when I go to the market."
By noon, most fresh seafood was sold out at Fa Yuen Street Market in Mong Kok.
A fish vendor in his 60s, called Uncle Simon by locals, said his stall was doing everything it could to stay clean, such as sanitising chopping boards, knives, and the floor, twice a day.
"The coronavirus will only come in through people that are infected, not through food sold here in the markets," he said, while wearing a face mask, face shield and gloves.
"Everyone needs to take the coronavirus seriously. I think we're being blamed for the infections because people think wet markets are dirty places."
Fears of an outbreak linked to wet markets, like those in mainland China, in Wuhan and Beijing, have increased after five cases were linked to four fish stalls at the Hung Hom wet market, and two linked to two stalls at To Kwa Wan as of Tuesday.
Ten others at the Hung Hom market, including cleaners and workers at frozen meat and dry goods stores, have also been infected.
Many of the first infections of Covid-19 were linked to Wuhan's Huanan seafood market, while a resurgence of cases in Beijing were linked to the Xinfadi food centre.
Both the Hung Hom and To Kwa Wan markets have been closed for two days, after health officials collected samples from chopping boards, ice, water and measuring scales.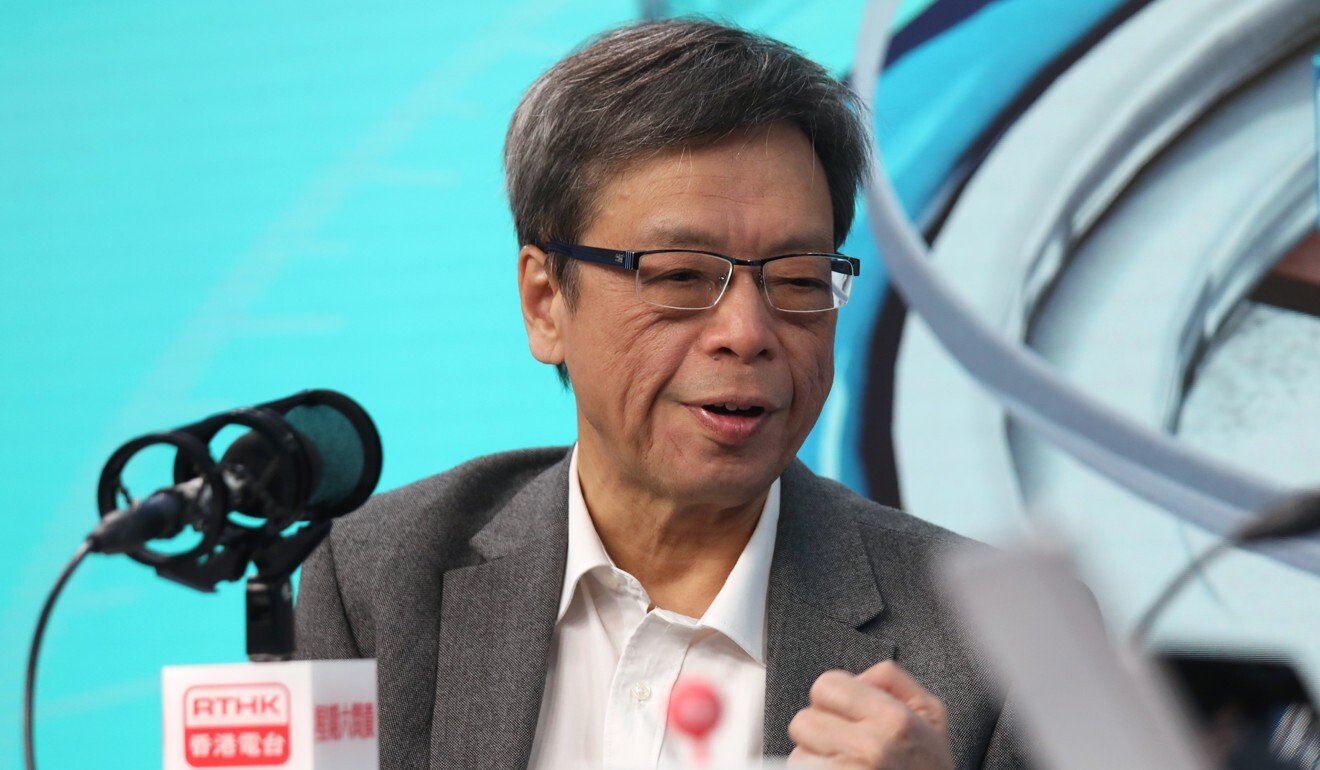 Dr Leung Chi-chiu warned wet markets might have to stay closed for longer if more people tested positive for the coronavirus. Photo: Xiaomei Chen
Dr Leung Chi-chiu, an infectious diseases doctor, said the government might have to keep the markets closed for longer, if more people connected to the Hung Hom and To Kwa Wan wet markets tested positive.
"Currently we are not doing enough in terms of contact tracing in crowded workplaces, which has caused a continuous and unbreakable transmission chain in places such as wet markets," Leung said on a radio show.
He urged the government to widen testing of market workers and if more tested positive, other people who could have been in contact with them should also be tested.
"If there is a large scale outbreak like at Xinfadi food centre, then the market would need to be closed for 14 days," Leung said.
There may never be a 'silver bullet' for coronavirus, WHO chief says
Kowloon City district councillor Yam Kwok-tung said there were both cats and rats at the Hung Hom market, and he was concerned about hygiene problems.
"While the government has closed the market earlier to disinfect it, they only focus on public areas and not the stalls," he said.
He said the market had three entrances, but only one where temperature checks were being carried out, and urged residents to avoid directly touching raw fish when they were buying seafood.
source: south china morning post.