---
5 Aug, Zhuang Pinghui in Beijing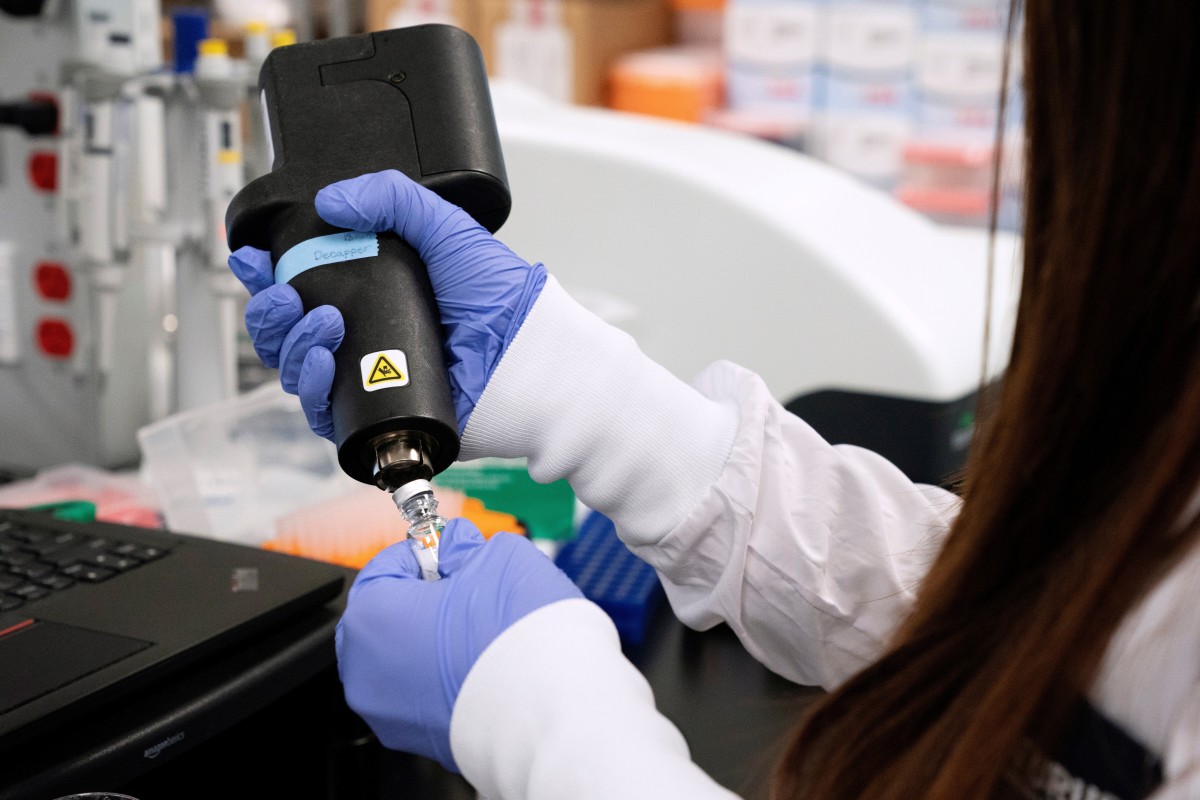 A new coronavirus drug candidate is designed to neutralise the pathogen buut is not a vaccine. Photo: ReutersWhile dozens of pharmaceutical players are racing to find a vaccine for the coronavirus, a glimmer of hope has emerged on the horizon for a cure.US drug giant Eli Lilly announced on Monday that its trial of an antibody drug had progressed to phase 3, to establish whether the candidate, LY-CoV555, can prevent or treat Covid-19 in nursing homes in the US.
Antibodies are proteins the body makes in response to invasion of a foreign substance such as a virus. They can be obtained from the blood of recovered patients or created in the laboratory from genetic sequences.China has used the plasma of recovered patients to treat others but the process is limited by supply – on average, plasma from four survivors is needed to treat one patient.Lilly's drug candidate is made in the lab and designed to target the spike protein of Sars-CoV-2, the formal name for the virus that causes Covid-19, and block the virus from entering human cells.
'Robust immune responses' found in Covid-19 vaccine clinical trials point to 2021 release
'Robust immune responses' found in Covid-19 vaccine clinical trials point to 2021 release
The process "neutralises" the virus but is not a vaccine. Its developers hope the drug will not only treat Covid-19 but also halt infection, particularly among the elderly.
"Covid-19 has had a devastating impact on nursing home residents. We're working as fast as we can to create medicines that might stop the spread of the virus to these vulnerable individuals," Lilly's chief scientific officer, Daniel Skovronsky, said.SCMP GLOBAL IMPACT NEWSLETTERUncover the most important stories from China that affect the worldSIGN UP NOWBy registering, you agree to our T&C and Privacy Policy
No drugs or biologics have been approved by the US Food and Drug Administration for the prevention or treatment of Covid-19. The FDA authorised the antiviral remdesivir for emergency use on May 1, based on preliminary data showing a faster time to recovery for hospitalised patients with severe conditions.
By the end of July, eight Sars-CoV-2 neutralising antibodies were in clinical trials. The race is led by Regeneron, which is in phase 3 of a study to determine whether a mixture of two neutralising antibodies can prevent infection in people who have had close contact with a coronavirus patient. The company has also advanced the candidate into two clinical trials for treating hospitalised and non-hospitalised Covid-19 patients.
In a non-peer reviewed paper released on Monday, the company said an animal study indicated that the antibody cocktail could "almost completely block establishment of virus infection" and minimise infection after animals were infected with a higher level of Sars-CoV-2.
Several candidates developed by Chinese researchers are also among the front runners.
Shanghai Junshi Biosciences, which has teamed up with the Institute of Microbiology under the Chinese Academy of Sciences to develop a Covid-19 neutralising antibody drug called JS016, is in phase 1. Junshi has sold the commercial rights for the candidate outside greater China to Lilly and is conducting trials in the US.
Two other candidates developed by Tsinghua University are also in phase 1 clinical trials.
Tan Xuxiang, director of the Beijing Development and Reform Commission, told the city's legislature last week that four neutralising antibodies had been approved for human trials.
However, there are uncertainties with such drugs. Mutations have been detected in some neutralising antibodies, undermining the effectiveness of the potential treatments.
source : south china morning post.