---
Le Yucheng, China's foreign vice-minister, says focus is needed to prevent US-China relationship from spiralling out of control or getting derailed
Sanctions against Chinese officials over Hong Kong and Xinjiang are among tough moves by the US before its presidential election in November

This Week in Asia'China sympathisers': a new Red Scare stalks Australian businesses10 Aug 2020NewsChinese military told not to fire first shot in stand-off with US12 Aug 2020NewsSouth China Sea: the dispute that could start a military conflict11 Aug 2020NewsChina sets bottom lines with US; 'no plans to unseat superpower'7 Aug 2020NewsCoronavirus found on frozen seafood packaging in Chinese port city11 Aug 2020CoronavirusCoronavirus reappears over five months after woman recovered from virus12 Aug 2020EconomyHong Kong's US exports to be relabelled 'Made in China'12 Aug 2020NewsGive up WeChat or lose your iPhone? Chinese users brace for Trump ban's impact9 Aug 2020NewsNew-look seals for US missions in China spark online rumours12 Aug 2020NewsChina to sanction US senators and NGO chiefs11 Aug 2020
Le Yucheng, China's foreign vice-minister, says the US and China must keep the lines of communication open. Illustration: ShutterstockA senior Chinese diplomat called for efforts to prevent worsening China-US ties from getting out of control "in the next few months" and said he was ready to talk with Washington "at any time".
Le Yucheng, China's foreign vice-minister, stood "ready for talks" with his American counterparts, he said in an interview with Chinese news site Guancha.cn posted on the foreign ministry's website on Wednesday.Le is the latest Chinese diplomat in recent weeks to speak out on the state of relations between the two countries and send out a more conciliatory message than the usual brand of Wolf Warrior diplomacy as China braces for an increasingly antagonistic United States in the months leading up to the US presidential election in November.
Despite the appeal for talks, the Chinese official made it clear that Beijing would not "give an inch" on issues it regarded as core interests and national dignity.
Le did not mention the upcoming US presidential election, but added that "the next few months will be critical".
"We must stay focused without being swayed by any extreme forces, keep to the right direction of the bilateral relationship, and prevent it from spiralling out of control or getting derailed."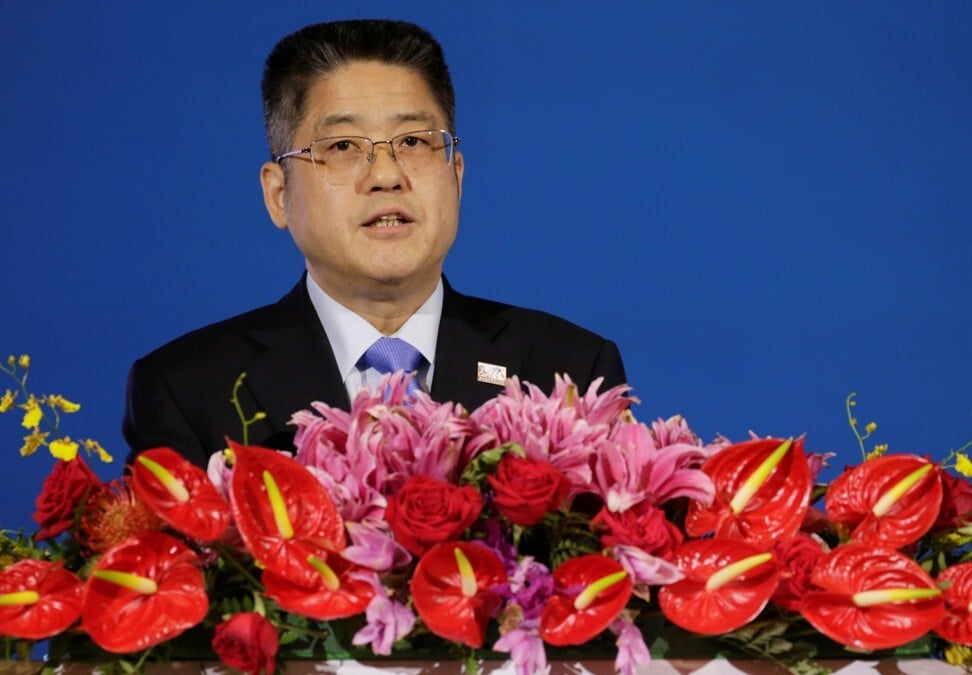 China's foreign vice-minister, Le Yucheng, has added his voice to the calls for talks. Photo: Reuters
The Chinese diplomat also called for dialogue to resume between the two governments.
"First, keep the lines of communication open. Dialogue should not be put on hold. In particular, there should be no 'radio silence' between the two foreign ministries," he said.SCMP GLOBAL IMPACT NEWSLETTERUncover the most important stories from China that affect the worldSIGN UPBy registering, you agree to our T&C and Privacy Policy
"That means no matter how difficult and complex the issues may be, they should be put on the table … I myself stand ready for talks with my US counterpart at any time."
He said Covid-19 pandemic, economics and trade, narcotics, climate change, poverty alleviation, North Korean nuclear issues and Middle East security were areas China and the US could work on.
Relations between the world's two largest economies have descended to the worst in decades following tit-for-tat consulate closures and a range of conflicts, including over Hong Kong, Taiwan and the South China Sea. Washington has also banned Chinese social media apps TikTok and WeChat.Le said China "never fires the first shot" and every move it made has been "self-defence and counter-attack".
"On issues concerning China's core interests and national dignity, there is simply no room for us to back down. If we give up an inch, they will ask us to back off a mile and through salami tactics they will never stop undermining China's sovereignty and dignity."
Chinese diplomats have appealed to the US to repair their damaged ties. Yang Jiechi, a member of the Communist Party Politburo and considered China's leading diplomat, called on both China and the US to seize opportunities for cooperation. But Yang added that Washington should respect Beijing's "core interest" and "avoid making misjudgments".
Chinese Foreign Minister Wang Yi also called for more dialogue and a resetting of the US-China framework. Observers said Beijing was alert to the mounting risk of decoupling between the two nations, especially ahead of the US election as Washington adopted a series of tough moves against Beijing, including sanctioning officials over Hong Kong and Xinjiang.
Le said China would not be threatened by the sanctions and hit back at the US criticisms that China was seeking a dominant role in global affairs.
"Some Americans had blamed China for being a free rider. But when China poured in more money to provide public goods, then they blamed us for having strategic intentions and trying to be a hegemony. This is contradictory," he said.