---
31 Jul, 2020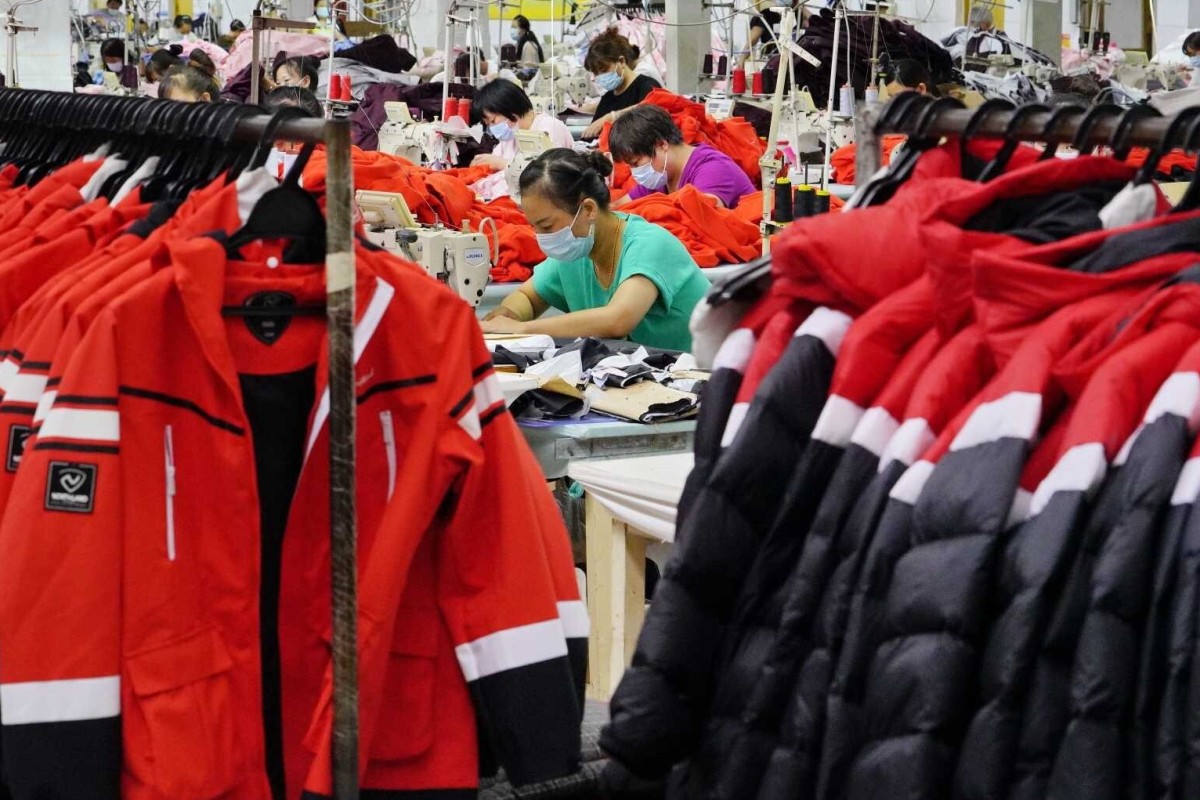 China's official manufacturing purchasing managers' index (PMI) was 51.1 for July. Photo: Xinhua
Buoyed by a construction boom, China's economic recovery continued apace in July, new sentiment data suggested.
The official manufacturing purchasing managers' index (PMI) for July stood at 51.1, with a reading above 50.0 suggesting expansion in factory output.This was slightly better than June's reading of 50.9 and was better than analysts' expectations, with the median result of a Bloomberg survey standing at 50.8.
The PMI is a sentiment gauge, conducted through a survey of factory owners and purchasing managers. It offers an early snapshot of the state of China's economy during the month ahead, quizzing operators on issues like hiring, export orders and inventory.
The official non-manufacturing PMI, also released by the National Bureau of Statistics (NBS) on Friday, was 54.2 for July, down from 54.4 in June but slightly below analysts' expectations of 54.5. This survey takes the mood among the services and construction sectors. In the construction sector, sparked by a building boom, sentiment rose to 60.5 from 59.8 in June, while in services it edged down slightly to 53.1 from 53.4.
Combined, the surveys are a leading indicator used as a barometer for the economic health of the economy for the month ahead. The composite PMI, which combines both verticals, came in at 54.1 in July from 53.4 in June, signalling a broad if gradual steadying across the Chinese economy.
This stands in stark contrast to economic data in other leading economies around the world. The US economy – the world's largest – shrank by a record 32.9 per cent in the second quarter of 2020. This is among the biggest markets for Chinese goods – despite billions of dollars of trade war tariffs, and a dent to demand emanating from this near-collapse would likely hit China's producers.Both the manufacturing and non-manufacturing PMIs have now been in positive territory for five successive months, following the historic collapse in January and February that saw the manufacturing survey come in at 35.7 and non-manufacturing at 29.6.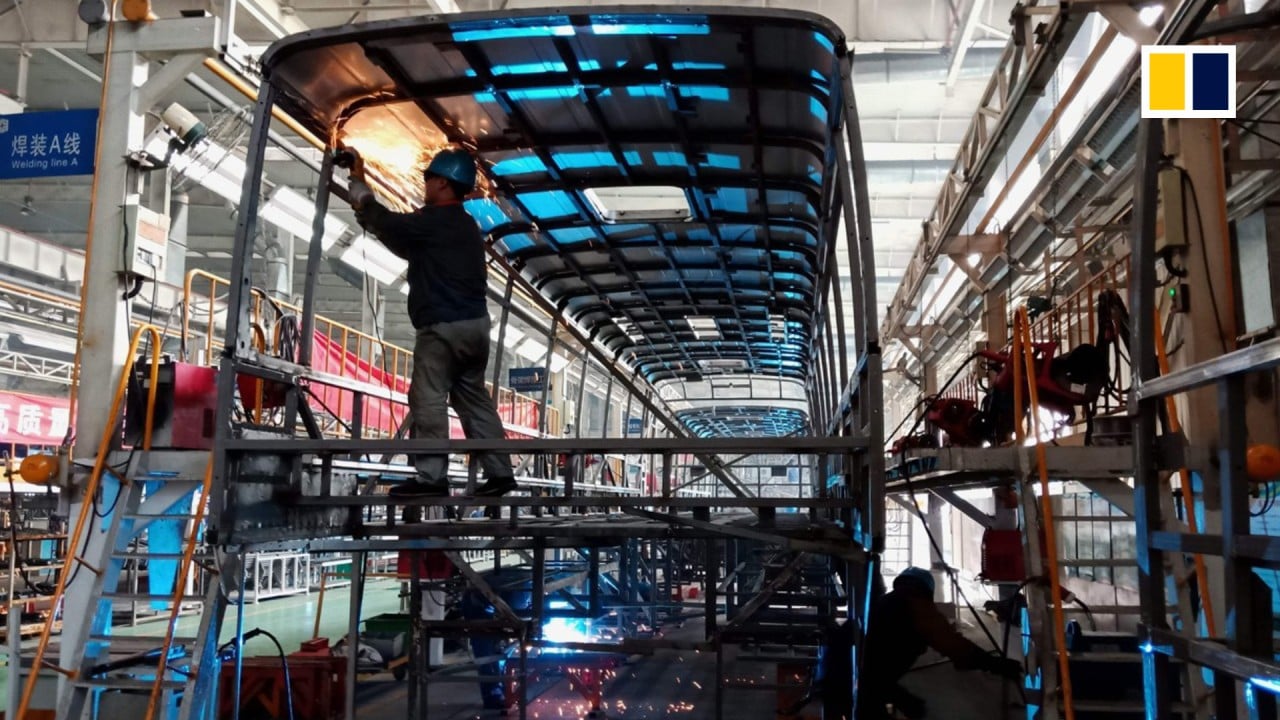 What is the purchasing managers' index (PMI)?
What is the purchasing managers' index (PMI)?China's economy has recovered from the 6.8 per cent contraction in the first quarter contraction, with official growth of 3.2 per cent in the second quarter.
The pace of this growth has surprised many, given that parts of the economy have yet to return to full capacity, but the general trend across multiple data sets has been upwards.Trade showed a strong recovery in June, with China's exports rising by 0.5 per cent in June from a year ago, while imports rose by 2.7 per cent. Within the manufacturing PMI, the new export orders metric was 48.4, showing manufacturers are more confident about exports for the month ahead. In June's survey, this reading was 42.6.But there are some challenges ahead. Seaborne shipment data showed that the trade of medical supplies and personal protective equipment to the US – including face masks – slowed in the first half of July, even though coronavirus cases soared in America. For China, this was an unexpected boom market through the early months of the year and was credited with keeping the official export data positive in April.
Through planning for combining pandemic control and development policies, China's economic climate has continued to recover, and business operations have continued to improveZhao Qinghe
Factory owners still do not expect to be hiring significantly more staff over the coming month, with the employment metric coming in at 49.3 for July, slightly higher than June's 49.1. For non-manufacturing firms this was 48.1, from 48.7 in June.
With President Xi Jinping attempting to steer the economy towards domestic consumption and self-reliance, policymakers may be pleased to see domestic orders improving. New orders rose to 51.5 for manufacturing firms in July, while it ticked up to 51.7 for non-manufacturers, both slight increases on June.
"Through planning for combining pandemic control and development policies, China's economic climate has continued to recover, and business operations have continued to improve," said Zhao Qinghe, a senior statistician at the National Bureau of Statistics.In June, profits of industrial firms also saw a year-on-year increase of 11.5 per cent, from an increase of 6.0 per cent in May, representing the only months of growth in 2020. In the first six months of the year, however, profits fell by 12.8 per cent.
Foreign miners and traders, meanwhile, have been reporting record iron ore shipments over recent days and weeks, in a sign that China's stimulus playbook of construction and real estate is beginning to kick in. Rio Tinto, Fortescue Metals Group and BHP Group all reported record sales in the first half of the year, the bulk of it to China.
China has seen a few pockets of coronavirus outbreaks in recent weeks, suggesting that the recovery might still be fragile.
Furthermore, China has been besieged by near nationwide flooding – the worst in decades – since early-June. Heavy rainfall has hit regions across the country, spanning 27 provinces, with at least 21 declaring critical levels of flooding.
The government this week estimated a direct economic hit of US$16.6 billion, with more than 2 million people displaced along the Yangtze River. Analysts have pointed to the potential of this disaster to hijack China's recovery.
source : south china morning post, Andrew Mullen and Finbarr Brmighan